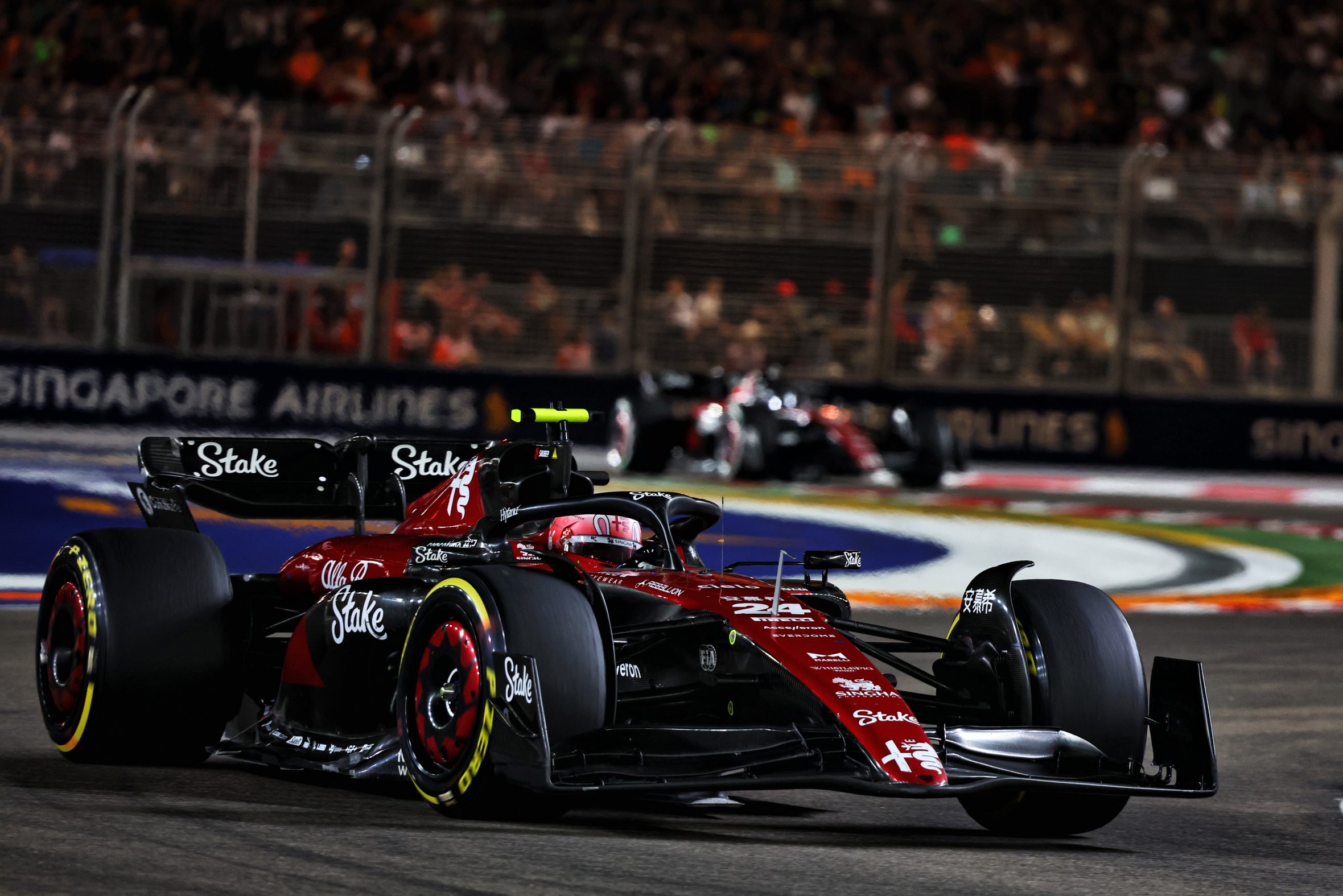 Alfa Romeo F1 Team Stake raced fiercely under the Marina Bay lights, but the increased turn of pace in Sunday's showdown just wasn't enough to bring home the points. Zhou Guanyu performed a good comeback from a pit-lane start, racing into the points thanks to an aggressive strategy by the team; in the end, however, he had to settle for 12th place, just outside the top ten. Team-mate, Valtteri Bottas, also raced in the points-scoring positions around the halfway mark, only to see his race ended by a technical issue before the closing stages.
The team takes stock of this event, before heading to Japan for next week's race in Suzuka: with the new upgrade package reaching maturity, Alfa Romeo F1 Team Stake will be hoping for a step forward in performance.
Alessandro Alunni Bravi, Team Representative: "It was a difficult race at the end of a challenging weekend, and we didn't reach our target in the end. We chose to make some extensive changes on Zhou's car to explore more setup options, and it worked, bringing more performance for the race. Zhou's performance was solid, he was in contention for the points but the late VSC jeopardised his race. Valtteri had a more difficult race: the decision to start on hard tyres paid dividends when the Safety came out, and he climbed to P10, but in the end we did not have enough pace to keep the position against cars on fresh tyres. His race was brought to an end by a technical issue and we'll need to get to the bottom of it to understand what happened. We now have a few days to prepare for Suzuka: racing again is good, as we get a chance to fully focus on our performance again, on a track that should suit our car, and our new upgrades, better. There's no frustration in the team, just determination to get back to scoring."
Valtteri Bottas (car number 77):
AAlfa Romeo F1 Team Stake C43 (Chassis 02/Ferrari)
Race result: DNF
Fastest lap: 1:38.075 (Lap 51)
Tyres: New Hard (40 laps) – New Medium (11 laps)
"We knew we had to take some gambles today, taking into consideration our starting position and the pace we expected to have. The timing of the Safety Car didn't really work for us – it was too early – and we couldn't stop to switch to mediums at that stage, hoping to get them to the end of the race. We weren't making much progress and, eventually, our race came to an end with a technical issue: we had to stop the car as a precaution, and we'll need to understand what happened. Today really wasn't our day, but at least we learned a lot about our upgrades: we expect them to help us more in Suzuka, so we will need to optimise our package and turn all the data we have into performance. I am looking forward to Suzuka: it's my favourite track and I can't wait to be on track there."
Zhou Guanyu (car number 24):
Alfa Romeo F1 Team Stake C43 (Chassis 03/Ferrari)
Race result: 12th
Fastest lap: 1:39.316 (Lap 46)
Tyres: New Soft (2 laps) – New Hard (18 laps) – New Medium (42 laps)
"We knew we had to try an aggressive strategy to make up ground, so we decided, as a team, to stop on lap two and put hard tyres, hoping to benefit from a Safety Car later in the race. The gamble almost worked, the SC did come, but unfortunately too early: its timing was perfect for those starting on mediums and it shuffled us to the back. At the final VSC, we committed not to stop for softs again, throwing the dice hoping for some other neutralization, but nothing happened and, in the end, we lost places to those on fresh tyres. We knew scoring points would be difficult, especially with two Red Bulls chasing from the back, but our pace was encouraging. We were in the fight for the top ten and I think we were in with a chance, had the circumstances been a bit different. We can be happy with some of the progress we have shown, I felt we were more competitive today. This track was always going to be hard for us, but I think we can make more steps forward in the next few races."